Confession: Until recently, I only read blogs about blogging.
In hindsight, this is probably why I had a hard time sticking with a blog name or topic for any length of time. Blogs about blogging are a lot like magazines. They have good intentions, but I just end up feeling like I don't measure up.
So I quit. Everything. Cold Turkey. And, I went on a blogging fast for almost a full year. But then, I missed it. I missed the community. So, I slowly let myself into the world of blogging again. And this time…. I'm actually reading other blogs and connecting and hopefully making friends 😉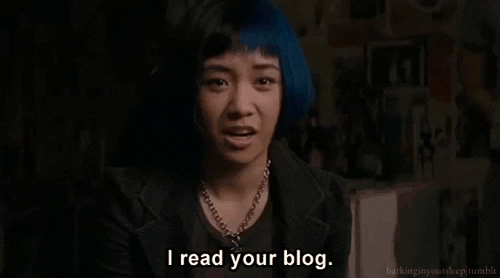 It is so hard to choose only 5 favorite blogs when I've recently come to know SO MANY wonderful bloggers. But, I will give it a try…
My 5 favorite blogs
Actual Conversations With My Husband – This is the funniest blog I have come across in my life. I laugh out loud with every post and secretly wish I could be so entertaining.
Forever Amber – I am absolutely not the ideal reader for this blog. I think I found her through one of her "blogging" posts. But I continue to read because she is a great story-teller and I love her writing "voice".
Mint Tea & Elephants – Melissa has become one of my blogging friends and it was her 31 day blog challenge that inspired me to start blogging again. What I love most is that she does her own thing. It's what I aspire to.
The Curvaceous Vegan – Every post feels like a conversation with a friend. Though I don't know if I've ever left a comment to tell her this… maybe I should do that?
Yes and Yes – I would describe Yes and Yes as an inspiring life improvement blog. She writes a lot of no-BS straight-talking posts that inspire you to want to be the best version of yourself.
That was tough! And like I said, there are so many blogs/bloggers that I have just met in the past month that I admire and enjoy reading.
Your turn…. what are some of your favorite blogs?
This is day 25 of my 31 day blog challenge.